InfoSecurity Russia 2017 has been a smashing success!
InfoSecurity Russia 2017 held on September 19-21 in Moscow, Russia has been a smashing success with 6445 visitor registrations and over 11500 pre-arranged meetings!
Our team was pleased to gather a professional club of executives and technical specialists, manufacturers of profile products and developers of unique software, representatives of state regulatory bodies and leading enterprises of the country under one roof.
Who was with us?
The festive atmosphere of communication and business cooperation was created by our sponsors and partners: CROC, Norilsk Nickel, RNT, Rostelecom, UTsSB, FinCERT of The Russian Central Bank, Aquarius, Avast Software, Cisco, Citrix, Hewlett Packard Enterprise, Radware, STEP LOGIC, SuperWave.
What was discussed throughout these days?
InfoSecurity Russia conference sessions have been extremely popular these three days! An outstanding line-up of experts addressed the industry's hottest challenges and topics.
The program featured various conferences, round tables, plenary sessions, workshops and seminars in four different conference rooms.
Industrial sector day was devoted to the protection of infrastructure of the critically important facilities, industrial Internet of things, modern processing infrastructures and data protection.
Among the hottest topics and discussions of the Financial security day were: the suppression and investigation of incidents in the credit and financial sphere, the counteraction to DDoS attacks, the evolution of security: from natural exchange to blockage, the Internet of things on financial markets, information security at retail enterprises & biometric technologies.
At the Technology Day professional society spoke about investment in technology, SOC vs SIEM and modern firewalls.
New at InfoSecurity Russia: leading manufacturers from China demonstrated innovative solutions and shared the experience of Asian brands!
Workshops from global experts:
Pseudonymisation, Easier Said than Done?  Simon Keates, THALES
Cybersecurity Getting the Business Engaged, Allan Boardman
Analytics of cybercrime: algorithms, Manjula Sridhar, ArgByte
Live Hacking: how hackers hack your systems, Sebastian Schreiber, SySS
DDoS-attacks and cybercrime Allan Guillen, Level 3 Communications
Video interviews with the industry's leading specialists and thought-leaders will be available very soon!
Thank you so much for making the show a fabulous event this year. We hope you've had a fun, informative and productive time. See you at InfoSecurity Russia 2018!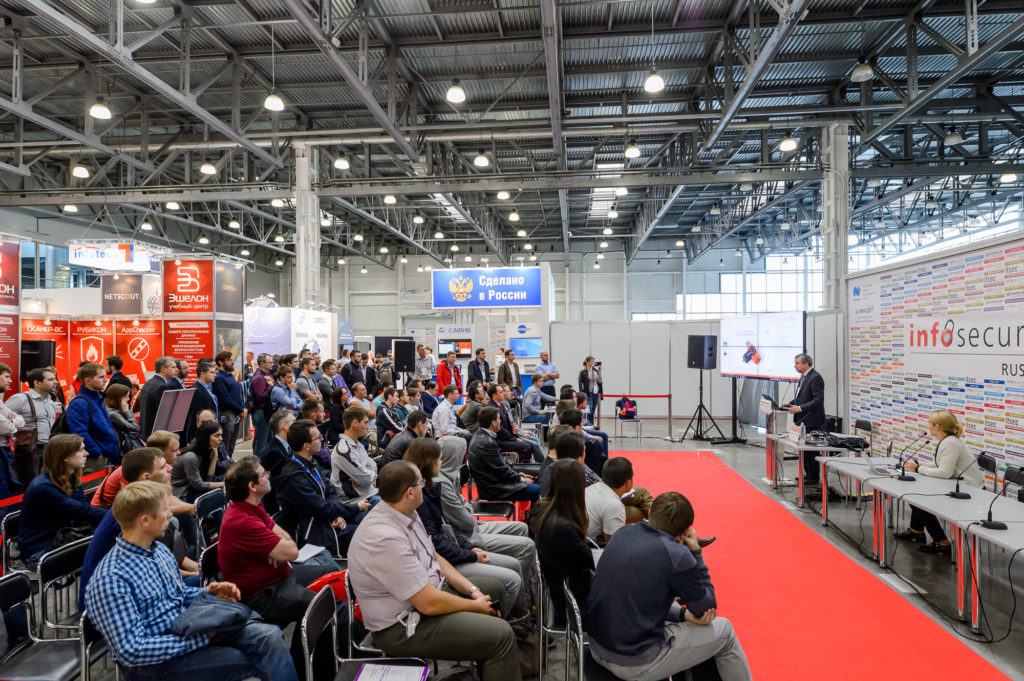 InfoSecurity Russia 2017 – Moscow, Russian Federation
19 Sep 2017 – 21 Sep 2017
The 14th edition of the show in 2017 is focused on hot market trends and built around the most popular conference program in the country.
The only information security exhibition in Russia.
Local and global brands, promising young developers, successful distributors and suppliers.
Leading speakers, business critical insights, best practices and practical workshops.
Key decision makers and industry professionals in the fields of information security and IT.
Unrivaled vibrant atmosphere and enjoyable comfortable place for networking.
Conference Program
The InfoSecurity Conference program provides you with business critical insights, best practices and practical case studies. The show highlights most relevant topics that are most interesting to the community of experts and information security market customers. For three days various conferences, round tables, plenary sessions, workshops and seminars are running in six different conference rooms.
Russian Market
What are the key trends that will impact the industry and profiles of leading suppliers of Information Security Market in Russia? Join thousands of your peers at InfoSecurity Russia 2017. The show opens its doors to over thousands of buyers and sellers in IT Security in Russia and provides the best place for sourcing opportunities, information updates and free educational forums.
Data Centre
Russia's demand for data centre services has been growing. This has been driven by the development of corporate IT systems alongside the demand for backup services for the growing volume of business critical data. Moscow is becoming a hotspot for tech investment as almost 65% of the net area of Russia's data centre space is here. Join the "Modern Data Centers and Data Protection" Conference & Exposition!
Contacts:
Exhibiting, Sponsoring, Keynote
Speaking:
Anna Zabora
+7(495)647-0442 ext.2225
What are the biggest issues in cyber security?
According to official statistics from the Central Bank of Russia, last year the number of cyber-attacks in the Russian banking sphere increased by 30%,however, according to the Russian Ministry of Internal Affairs, the real figure is about ten times higher.
Ransomware known as WannaCrypt or WannaCry has been attacking Windows computers around the world. On May 12, the first day of the massive hacker attack, the largest number of incidents were recorded in Russia. This was due to the fact that in Russia many people don't regularly update their software.
Why Cybersecurity Should Be The Biggest Concern Of 2017? Allan Boardman, Director, Business Information Security Officer at GSK will talk about Strategies for successful business engagement in cybersecurity at InfoSecurity Russia 2017. Join the Keynote Theatre:
"We have an understanding that this is a priority and an important issue," Andrey Krutskikh told Russian agency TASS at the International Meeting of High Representatives for Security Issues.
For further queries please contact:
Anna Zabora
InfoSecurity Russia
Project Coordinator
Groteck Business Media
Find me on LinkedIn